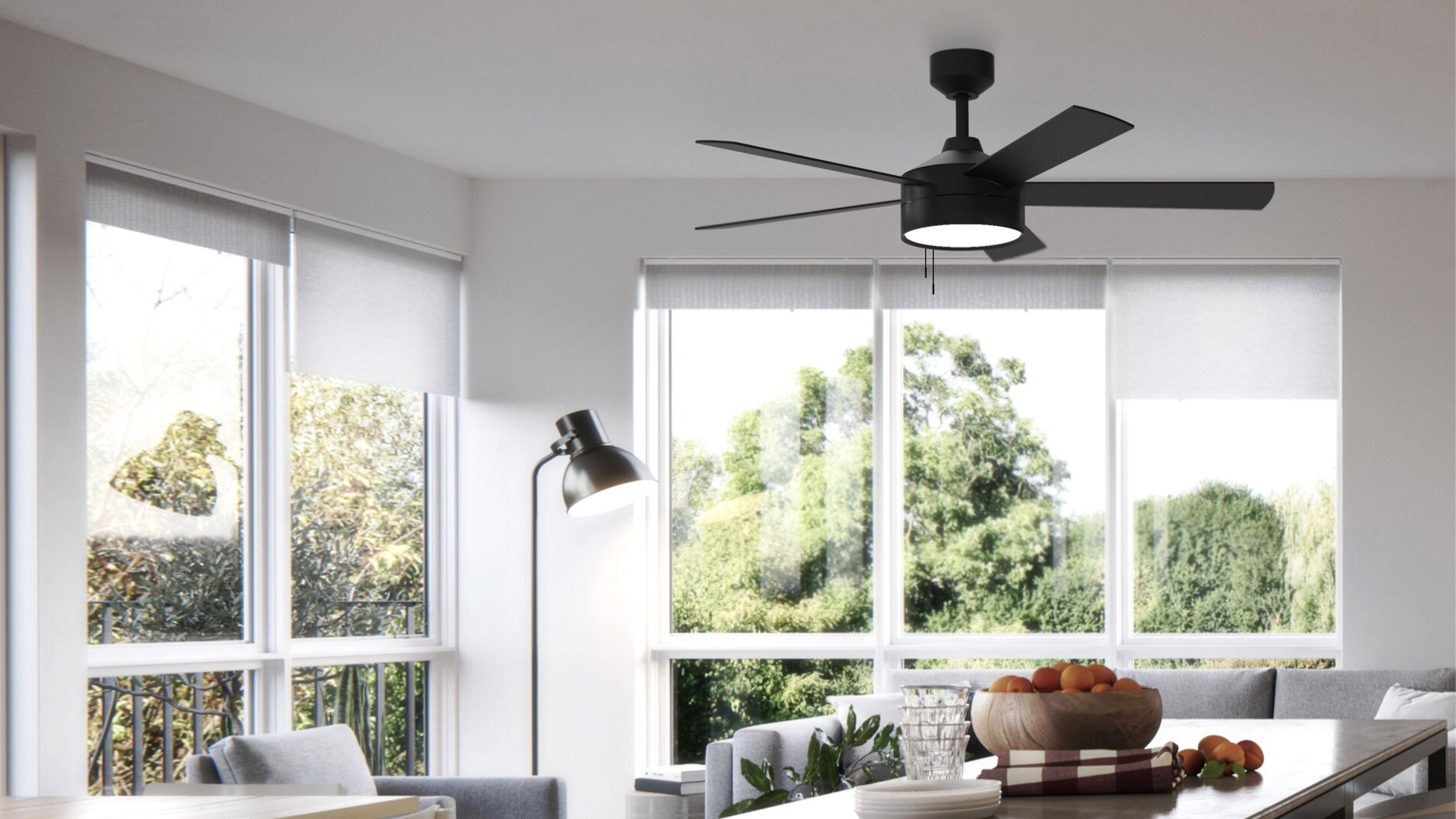 Katerra Product Design
Katerra products are designed in Seattle by an in-house design team to serve their functional purpose as simply as possible – classic geometric forms, clean lines, and minimal ornamentation. "Less design, but better."
C O M P A N Y
Katerra - Architecture & Construction

Y E A R
2019

R O L E
Industrial Design, Strategy, Product Development
1
Product Optimization

Low cost
Less in cost than existing catalogue offering.

Good Design
Clean and simple design that meets Katerra's and Kova's aesthetic goals.

Wiring
Allow fan to have speed and light control switches.
2
Installation Optimization

CLT installation
Ability to install to both typical gypsum ceilings and CLT with the same parts.

Manufacturing
Minimize installation steps.

Quick Connect
Include assembly methods to reduce the use of mechanical hardware and accelerate install time.


Research and Evaluation

After seaking out a documneting competitor product technical specifications, we evaluated how we would like to improve a fan beyond our current catalog fan.

What We Learned
To achieve the desired CFM for a 5 blade fan, the wattage would need to be more than our current catalog selection.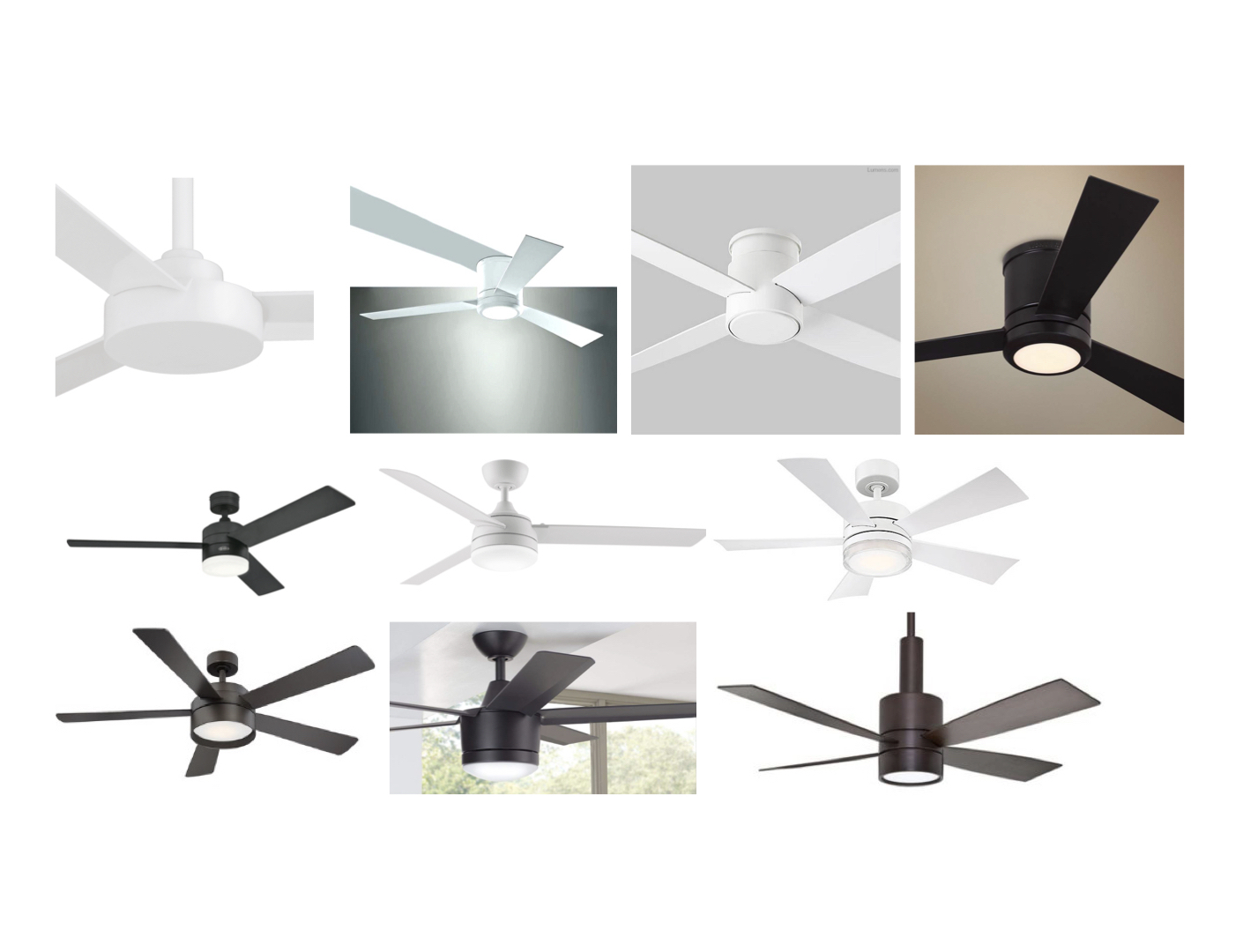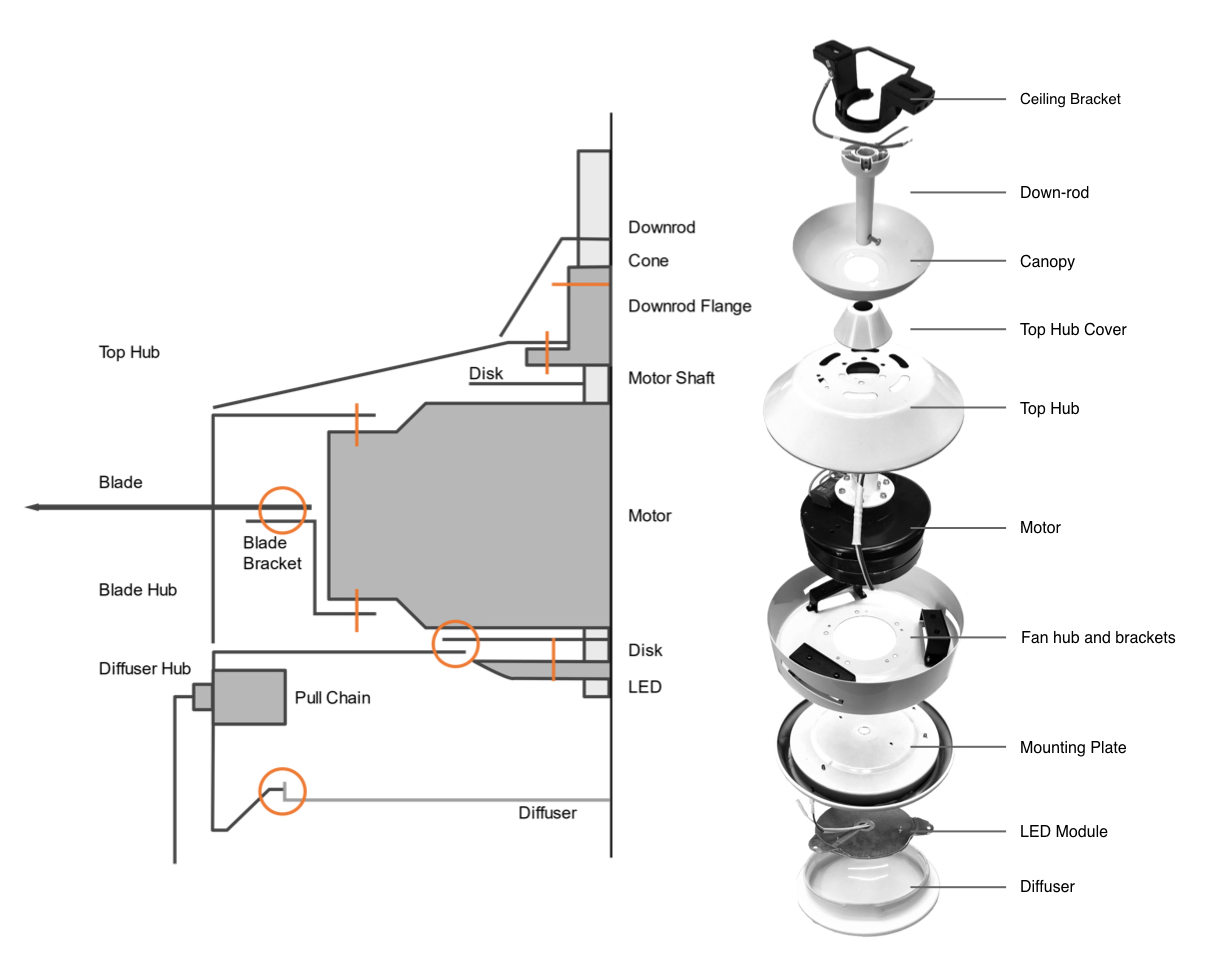 Discovery

We ordered sample fans from potential factories in China. I disasembled four fans to evaluate each exterior and interior part to re-engineer and figure out more effecient ways of assembling the parts. it was important to minimize the number of installation and assembly steps for the new fan design.

What We Learned
Most fans require disseably before you're able to attach the fan blades with screws. We wanted to create a method that reduced the amount of installation steps by creating a quick connect system for the fan blades.
Design & Development

Using CAD to play with the variable forms of the lighting diffuser, blades, and body of the fan I adjusted the sizing and forms of the parts to discover many iterations of what the fan could look like. After eliminating failed options and reiterating on successful versions, the team decided on two options to move forward.
I produced a full scale model test the feasibility of the finalized design.
We decided on three fan body finishes that would each have a different finish on each side of the fat blades.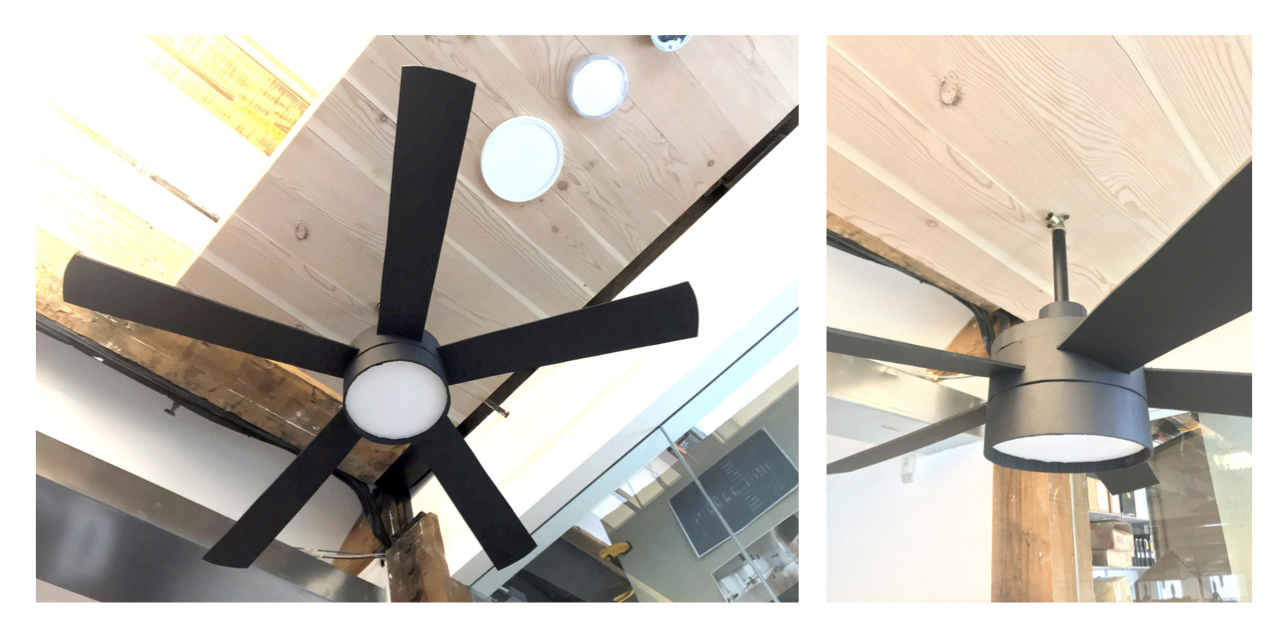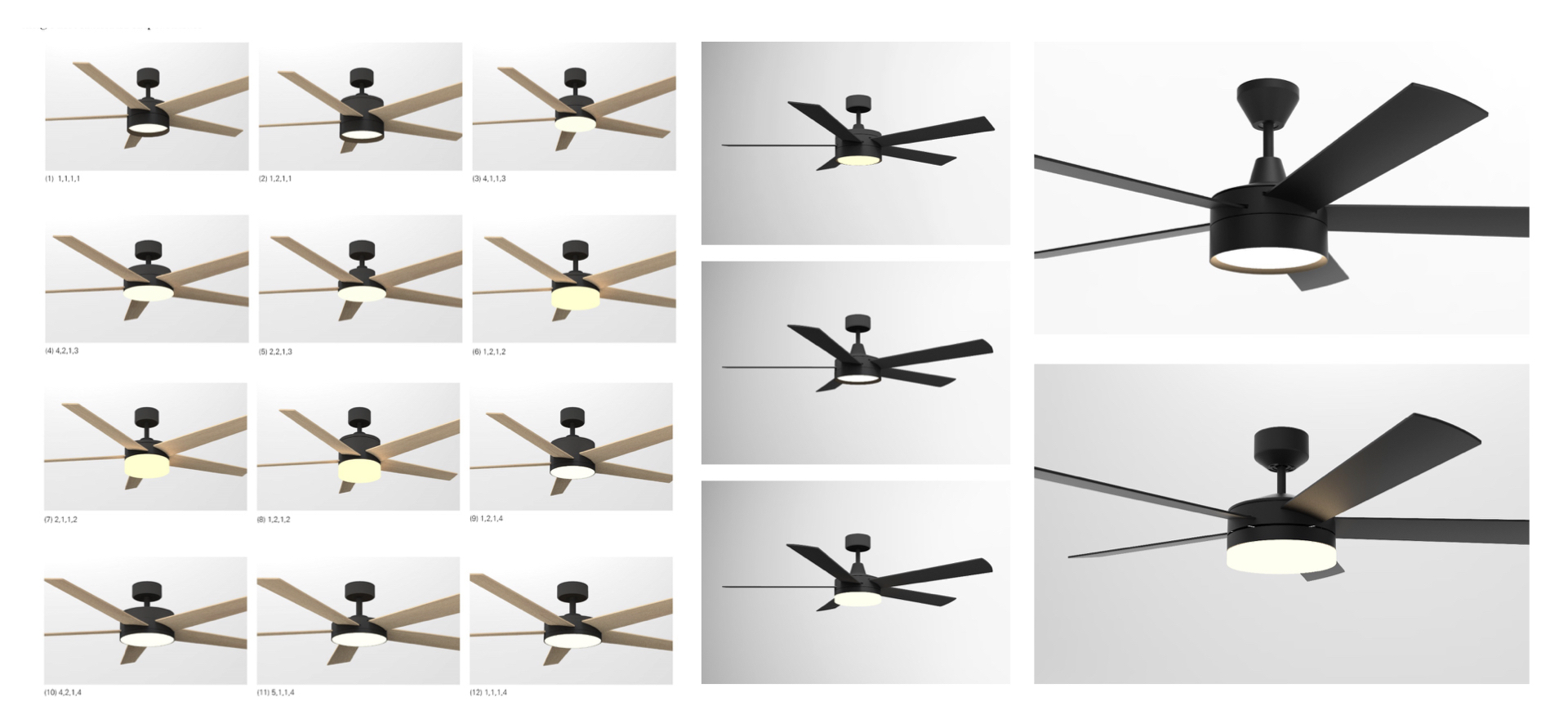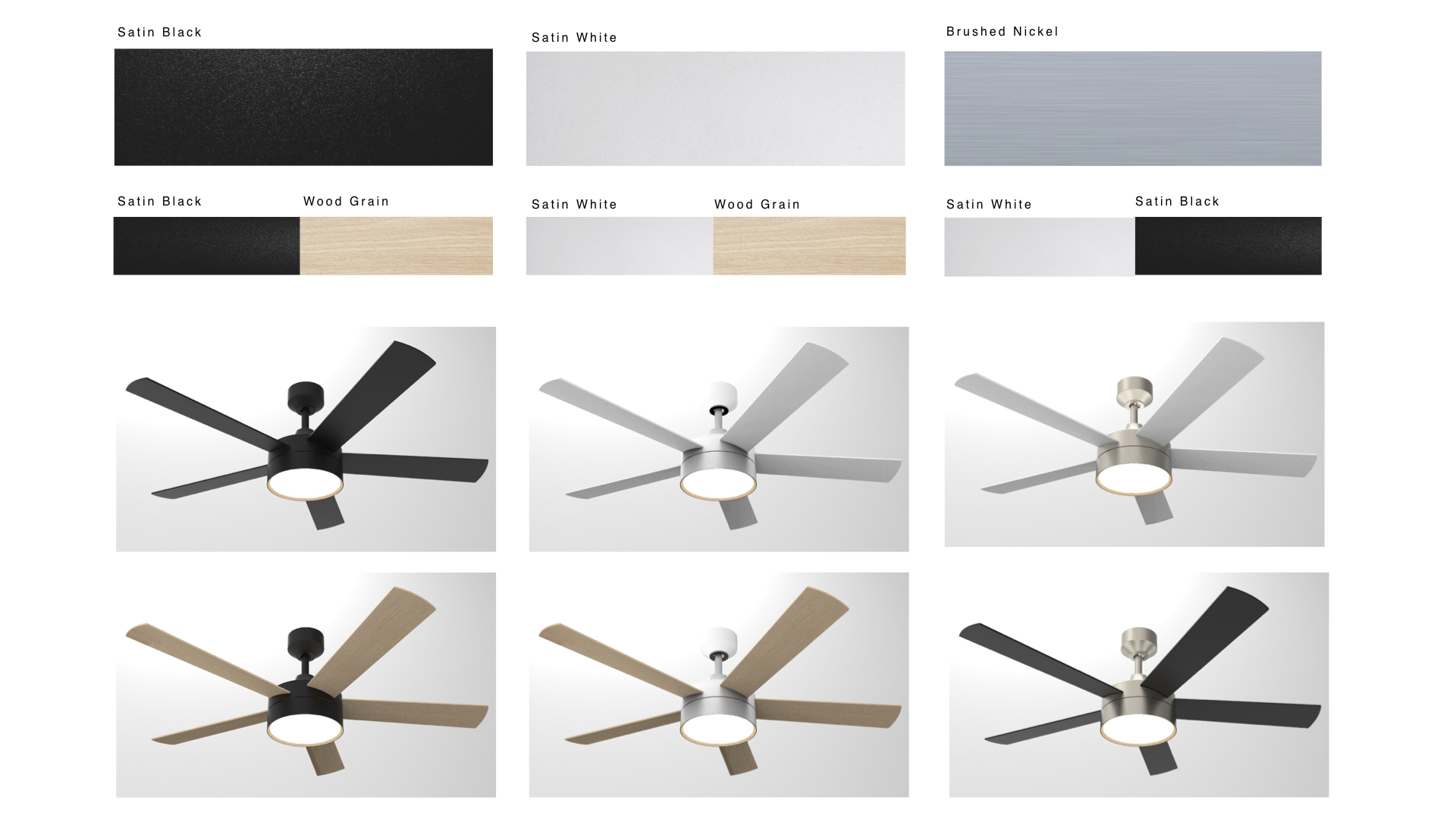 Design to be manufactured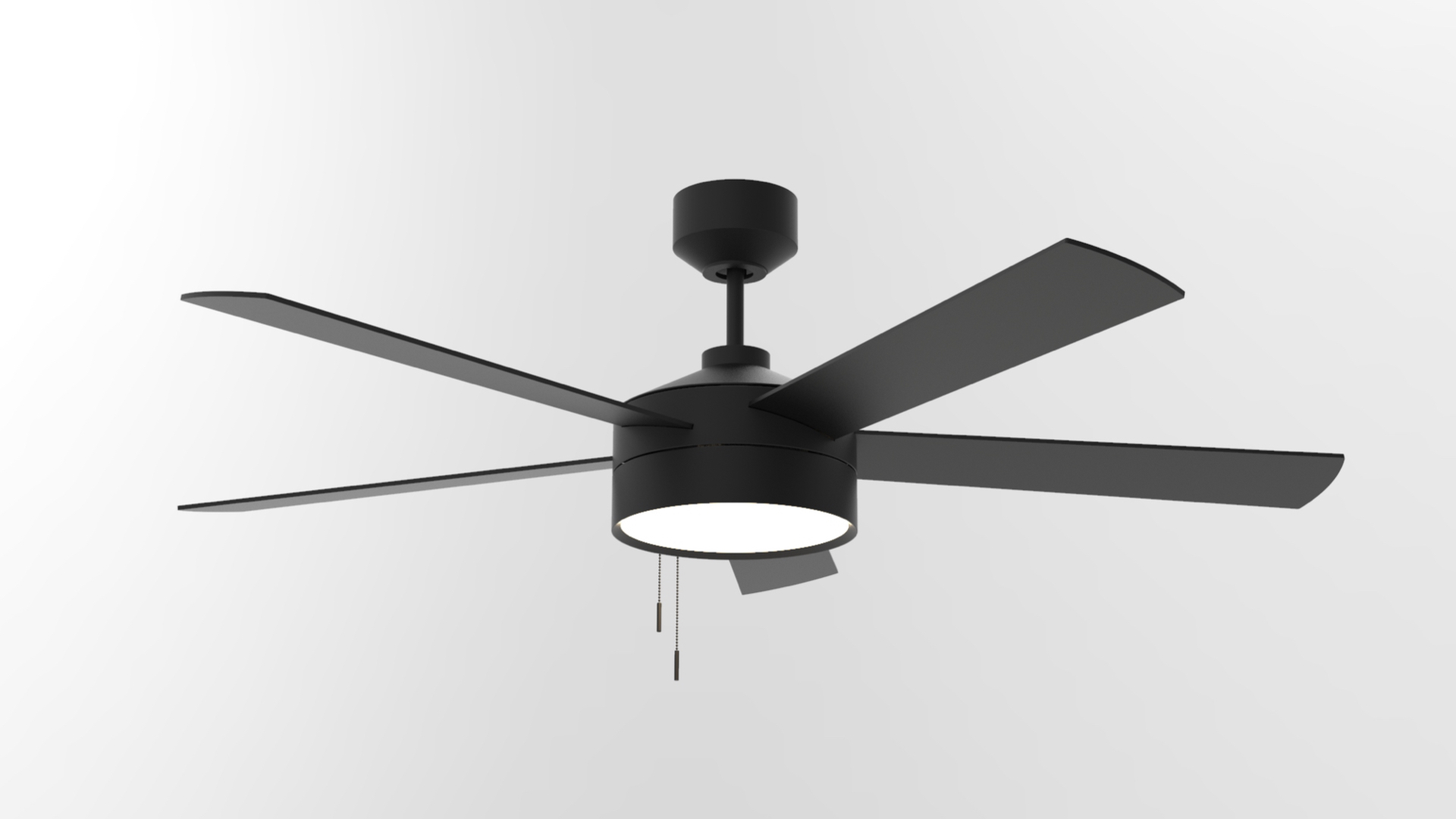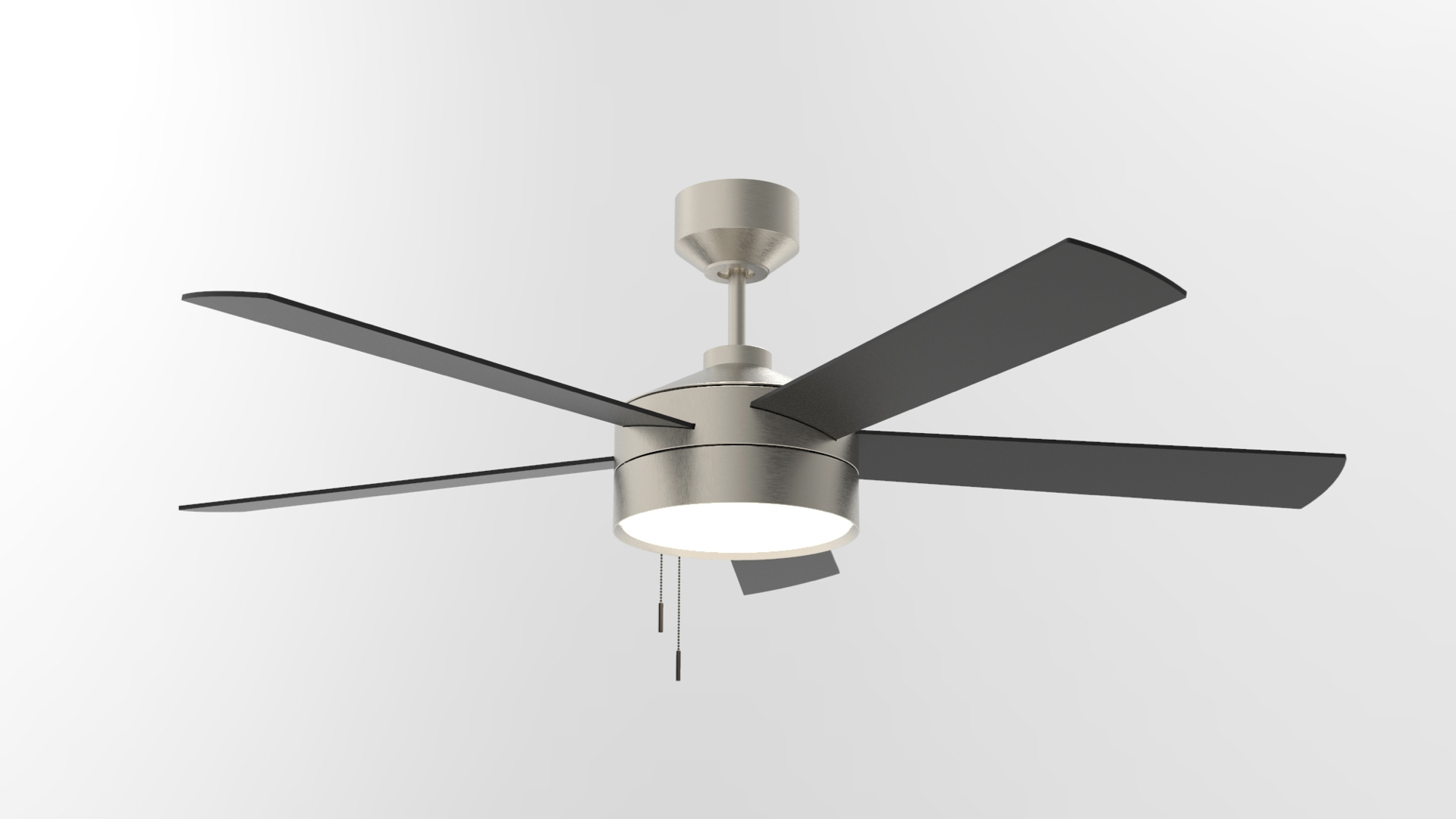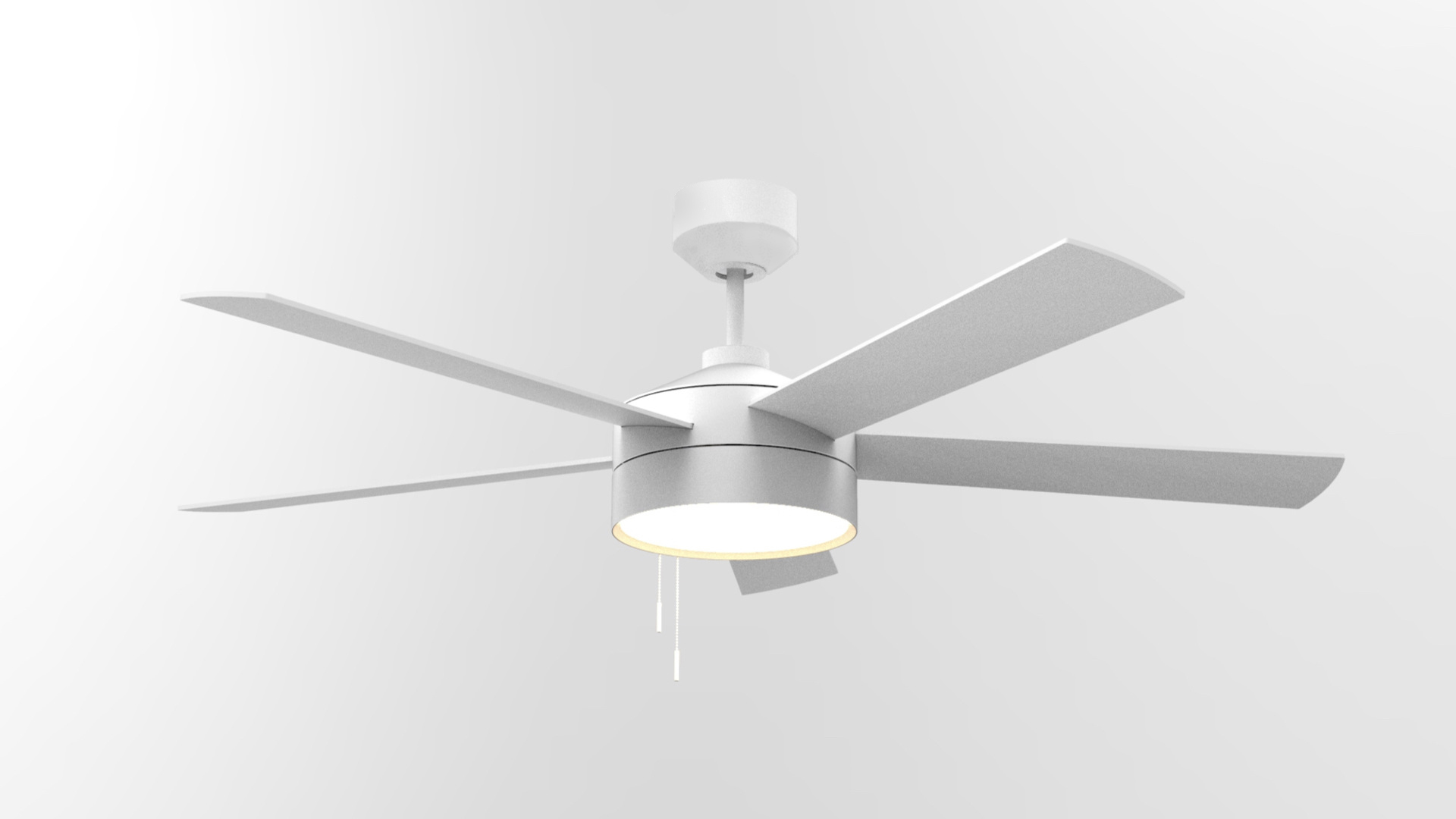 Bath Accessories Research
1
Product Optimization
High perceived value ( add high end feature.)
Low cost.
Alignment with other product categories.
2
Installation Optimization

Set screws as an attachment method can be time consuming, so there's a need for a quick connect solution.

Issues with the wall anchors that attach to the drywall can loosen over time.

Some bath accessories have poor construction which makes them rickety.
Competitor Product Audit
Conclusion
Ikea's bath accessory pricing is Katerra's closet Competitor.
There's seemingly infinite styles of cabinet hardware at a low cost.
Not many options for style matching grab bars.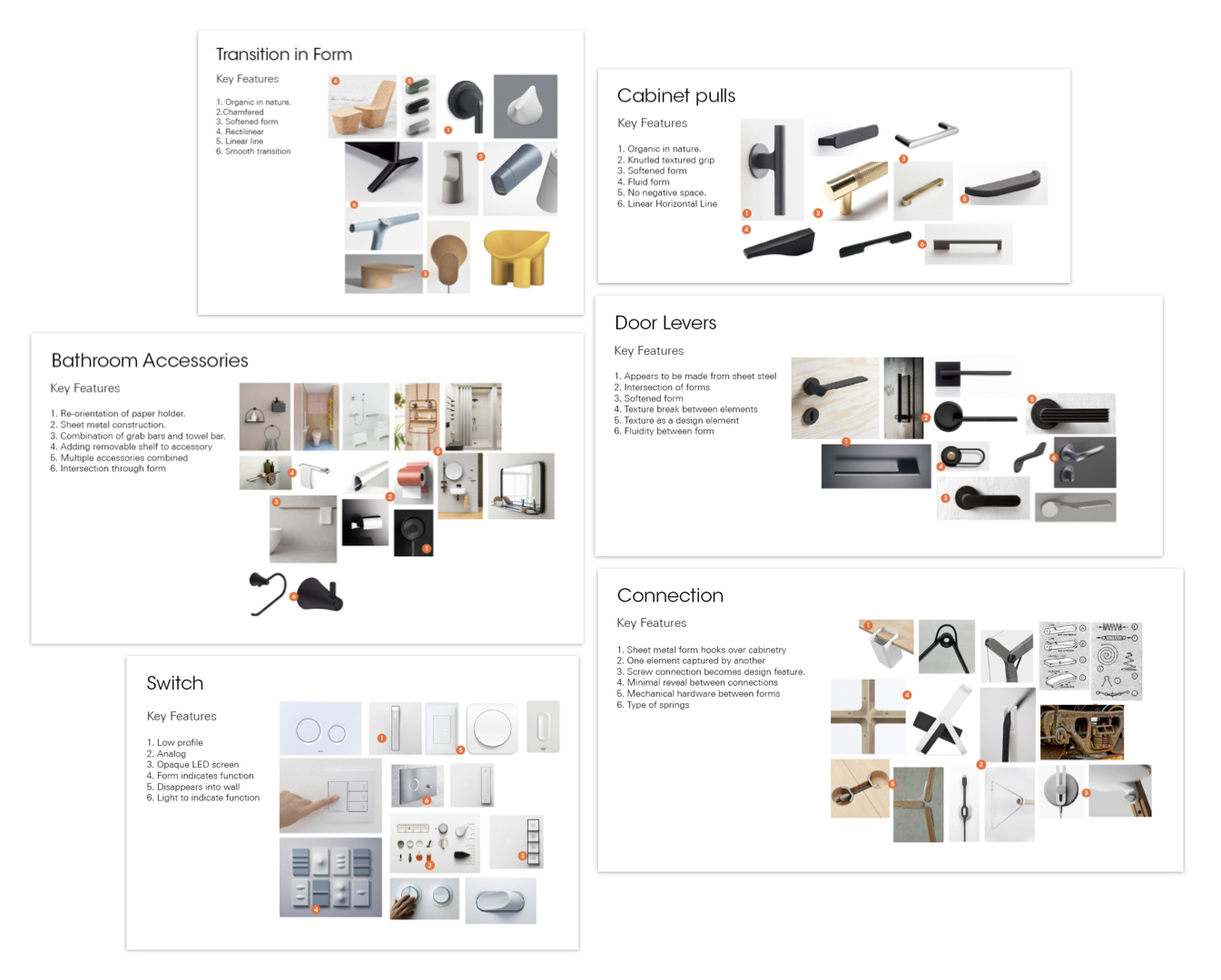 Inspiration
Conclusion
Contemporary style is based off of:
Sleek lines.
Simple Geometry.
Fluidity between forms.
Textured surfaces.
Design Ethos Predictions
Design that reflects the pursuit of well being.
Design that promotes positive experiences
Design that is sustainable and has a long term impact.
Ideation
Conclusion
Desire for...
Shelving above accessories
Cantilevered accessories
Double TP Rod
Multi-Rod towel bar.
Shelving Accessory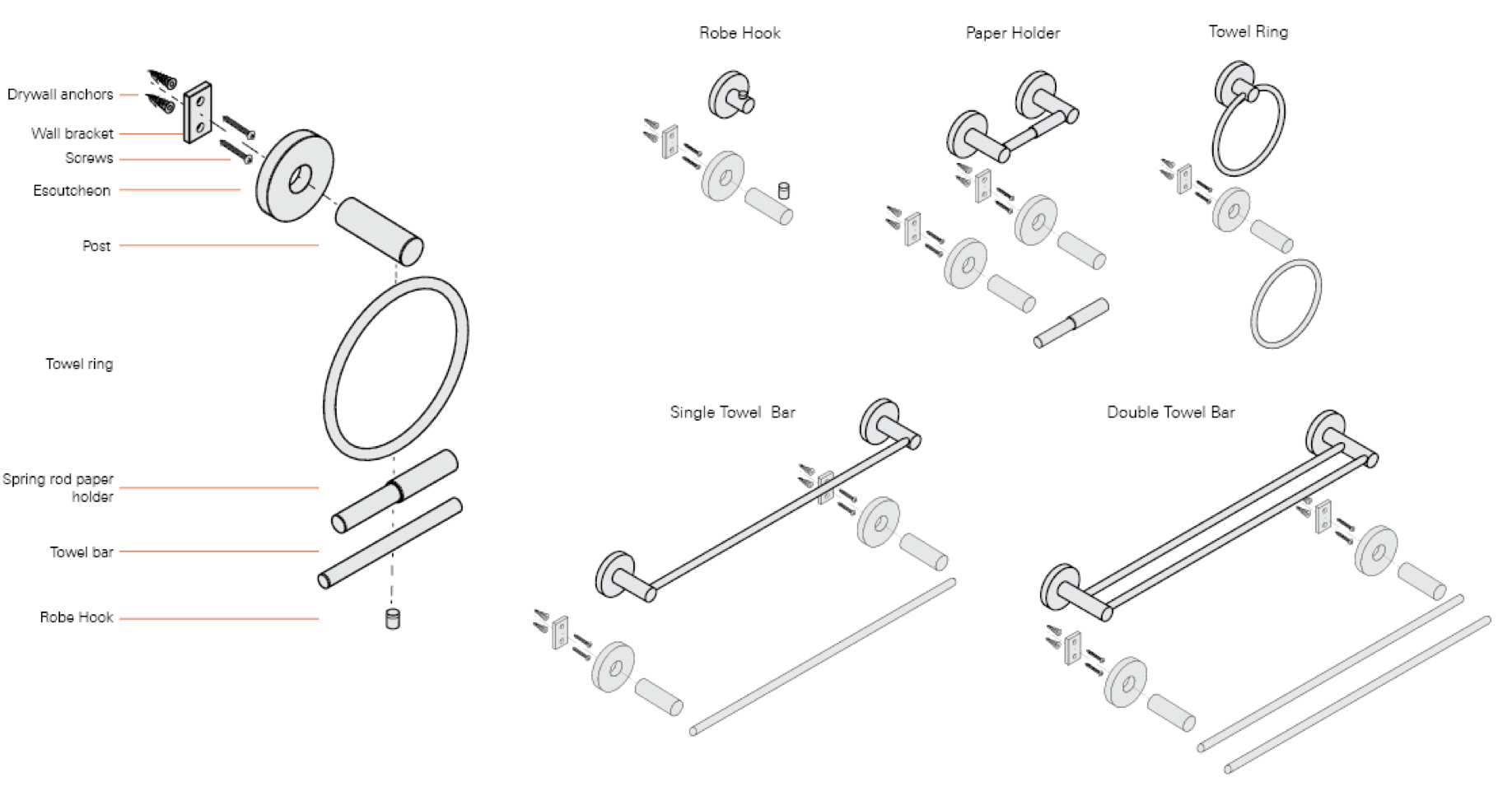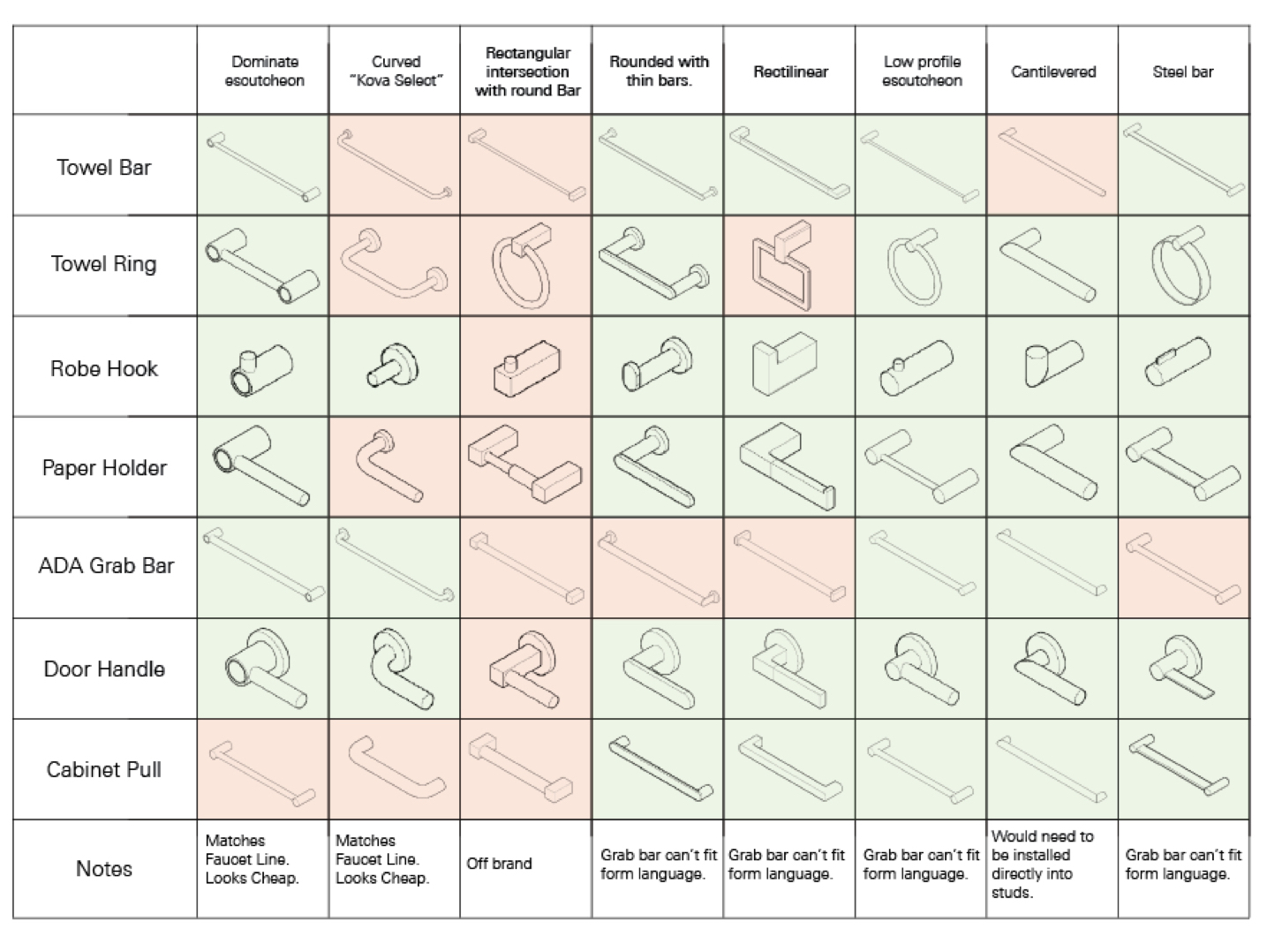 Modular Parts System
Like the Katerra Kova Select plumbing fixture line, a system of modular parts would be more cost effective than manufacturing each individual prduct.
Conclusion
Forms don't always translate to ADA grab bars or cabinet pulls.
Square accessories aren't cohesive with Kova Select Brand.
Kova Select plumbing fixture line doesn't translate well to accessories
Skills
Industrial design, CAD modeling, Concept ideation, Color, material, and finish, Market research.